Well this is certainly not how you expect to hear about plastic surgery in the news. A surgeon from Brazil is claiming that in 1995 he secretly performed a late night cosmetic procedure on Libyan leader Moammar Gaddafi.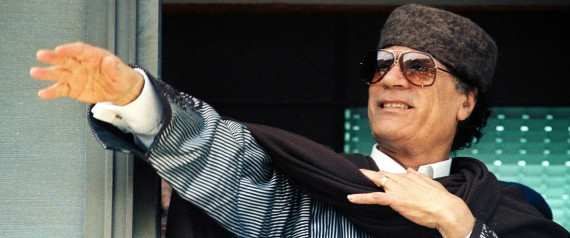 Whether you buy the story not, it certainly makes quite a tale. Brazilian surgeon Dr. Liacyr Ribeiro tells of being spirited into a bunker in the dead of night, where Gaddafi explained that he needed his people to see him as a young and strong, and requested cosmetic surgery. The leader agreed to hair plugs and, after refusing a facelift, also agreed to a Facial Fat Transfer. For this procedure, Dr. Ribeiro removed fat from the stomach and injected it into the face to plump up the skin and hide the appearance of wrinkles.
What's fascinating here is the whole cloak and dagger feel of his story. The events happened late at night, and one can assume that part of the reason for Gaddafi's refusal of the facelift was that he did not want to have to explain scars or stay in hiding while he healed. It was clearly important to the leader that his people see him as strong, but he also seemed quite determined to give the impression that his vitality was 100 percent natural and not the result of plastic surgery.
Of course, even with all the secrecy it doesn't sound like the working conditions were unmanageable. The word bunker may call up images of tiny, dark underground spaces, but according to Dr. Ribeiro this facility had, "two fully equipped and very modern operating rooms." He also reports told the interviewer that although Gaddafi wanted the procedures take place immediately, he did wait and allow his doctor to assemble a proper cosmetic surgery team.
Dr. Ribeiro really has no reason to make this up. As he explained to the interviewer, with the way Gaddafi looks now there's not much for a plastic surgeon take pride in. The treatments administered during a late-night bunker visit have clearly worn off. The interview does say that the Libyan leader contacted Dr. Ribeiro around five years ago, but the doctor was unable to make the trip to Libya at the time.
Judging by Gaddafi's current appearance, it seems he may not have been able to find another doctor to perform his cosmetic surgery after making that call. In recent photos his face shows all the signs of aging less than gracefully. The wrinkles around his eyes and on his forehead are very pronounced, and the sagging skin around his cheeks and jaw line can best be described the way Dr. Ribeiro did in the interview: jowly.
We see patients with Gaddafi's same motivation in the plastic surgery field all the time. People turning to cosmetic treatments to help their careers certainly isn't anything new. That said, the career in question is usually not, "leader of a foreign country."